While Audis are prized for their premium mechanics, every car will experience a pesky malfunction like an oil leak from time to time. Oil leaks can lead to excessive engine damage if they are left untreated, but consistent maintenance prevents oil leaks from becoming a more expensive and dangerous problem.
Fittingly, Audi means "listen" in Latin, and in this article, we will cover the signals your Audi is sending that indicate it may need expert maintenance in this area.
Signs of an Oil Leak
Thankfully, you do not need to be a skilled service technician or a mechanic in order to detect an oil leak. However, getting your car serviced at the first sign of a leak is essential, as a leak can quickly go from being a minor annoyance to a costly hazard. These are the 2 most common signs associated with oil leaks:
Oil Puddles under the Car
Oily puddles that pool under the car are the most obvious indicator of an oil leak, and they are also often the first sign of an oil issue for Audi owners. The easiest place to check for this sign is in your driveway, as you might not be thinking to do so while you are running errands. Your driveway or where you park will probably be the easiest place to visually inspect for oil left on the ground.
Rotten Fumes from the Engine
Stinking fumes from the Audi's engine are another potential signal of oil trouble. These vapors are not only bad for the environment but also the well-being of your engine. The fumes often result from oil coming into direct contact with the engine. If you observe this sign, it is crucial that you schedule maintenance for your Audi immediately.
Common Causes of an Oil Leak
Various parts of your Audi may be vulnerable to leaks. Our mechanics inspect each of these components during annual service appointments to catch any issues and allow your Audi to continue running at peak performance. The most common causes of an oil leak are the following:
Degraded Engine Gasket
A degraded engine gasket is the most frequent cause of an oil leak. When this happens, seals start to release the oil your Audi discharges. If these seals get punctured or damaged, oil will definitely harm your engine and possibly your driveway. We can repair or replace these for you.
Damaged Oil Pan
If the oil pan gets damaged or is not installed properly, oil leaks out of your Audi instead of being filtered through the drain plug. We can replace or reinstall the oil pan.
Cracked Drain Plug
The oil pan is equipped with the drain plug. If the plug is old, cracked, or installed incorrectly, excess oil or debris has nothing to keep it from leaking out of your Audi. We can repair or replace this plug.
Broken Oil Filler Cap
The oil filler cap has a similar purpose to the drain plug. This cap keeps the oil in your Audi in its proper place. If this cap is broken, oil leaks can be severe. Sometimes, the cap simply does not fit. We will readily refit or replace this part.
Faulty Oil Filter
If the oil filter in your Audi stops working, oil can build up in the engine and cause a fire hazard. Thankfully, our mechanics are well-versed with fixing this messy issue.
How Motor Cars International Can Help
Our mechanics at Motor Cars International are all certified in Automotive Service Excellence (ASE). We have decades of experience in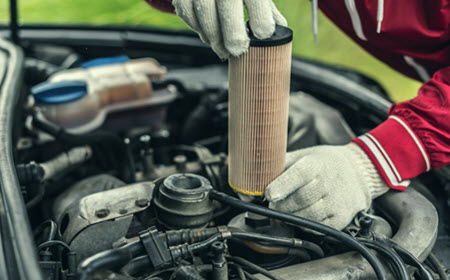 working with Audi's and other European vehicles, including BMWs, Land Rovers, Mercedes, MINIs, and Porshes. We use factory-grade tools and equipment for our repairs, and we pride ourselves on offering same-day service whenever possible.
Clients from Bridgewater and surrounding areas in MA, including Easton, Norton, Raynham, and Sharon can rely on us for our expertise. We will ensure that your Audi's oil leak is repaired and minimize the chances of oil leaks occurring in the future.
If you are interested in scheduling routine maintenance with Motor Cars International to prevent or remedy oil leaks, as well as more expensive issues, please contact us at your earliest convenience. We look forward to serving you for all your future Audi needs.