Of the millions of cars sold each year, BMW stands out as one of the top-engineered vehicles of them all. Known for its high performance, quality, and state of the art technology, BMW has a loyal customer base.
One issue BMW owner's may have to contend with is a damaged suspension system. Most faulty suspension systems are caused by road driving conditions. In this article, we will discuss the symptoms of your BMW's suspension issues and what to do if they occur.
Common Symptoms of a Poor Suspension System
Drifting or Pulling
When driving your BMW, the vehicle should maintain itself inside the driving lane with relative ease. If your car drifts and you always must pull the car back into the path, you may be experiencing suspension issues. One reason may be worn and loose tie rods that help control your steering and stability. This may also indicate an alignment issue with your BMW, which will result in the same symptoms.
Take warning if your vehicle is pulling or drifting. If a worn tie rod ultimately comes loose or breaks, you will lose all steering capability in your car.
Uneven Tire Wear
If air pressure is adequately maintained, tires should wear at the same rate. Uneven tire wear may be a symptom of a front end alignment needed on your BMW. Misalignment is usually caused by striking something such as a curb when you take a turn too short. Your vehicle will continue to get you back-and-forth to work, but tire replacement will result in costly repairs.
Knocking Sounds From Under Your Car
One of the tell-tale signs of a damaged bushing is to hear an occasional knocking sound as if rocks are hitting the bottom of your vehicle. As with tie-rods, a complete bushing failure can be dangerous while driving. Notify your BMW professional if you hear this type of sound under your car.
Side to Side Tire Movement
When your BMW is lifted onto a jack, your wheels should not have side-to-side motion. If so, you may have bad bushings or tie-rod issues, as discussed above. When discovered changing a tire or if a tire shop tells you about this motion, take it to your nearest BMW technician for a suspension inspection.
Jolts While Driving
If you begin to feel every bump and jolt inside your BMW instead of a comfortable, smooth ride, this is probably a sign of suspension issues. Defective shocks, struts, and other suspension components on your vehicle will not absorb the road's shocks as usual. If you think your suspension is not working as it should have your car checked for mechanical suspension issues by a professional.
Air Suspension Failure
Some models of BMW, such as the x5, use an air-assisted suspension. The system works with an air pump when your vehicle runs and inflates small airbags, giving you a cushioned ride.
One of the first symptoms your air assist may present is hearing grinding or ticking noises from the pump's fan as it inflates the bags. An air pump failure will result in no suspension support for your car. The nice smooth ride will turn into feeling every bump in the road. Have your air suspension checked regularly by certified BMW technicians to prevent further damage.
Leaking Shocks and Struts
Shocks and struts use hydraulic fluid internally and work the same as air suspension to reduce road jolts and bumps. Before you start noticing a rough ride, there may be evidence of a bad strut or shock if you find oil spots under your car near the tires. Once hydraulic oil leaks from these components, they will be of no use to your car, and a poor suspension will result.
How to Maintain Your BMW's Suspension
A complete suspension overhaul can be an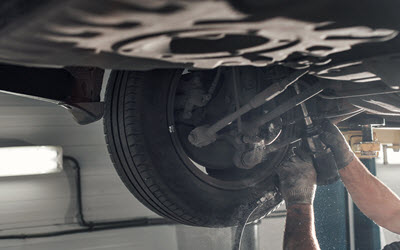 expensive challenge to your budget. Before this happens, make sure and have your BMW frequently inspected during servicing. A problem caught early by us at Motor Cars International will save you money.
Our maintenance programs were built on decades of experience from our ASE-certified technicians. Serving Easton, Norton, Raynham, Sharon, and Bridgewater, MA, we specialize in BMW and other highly-engineered European models. Contact us today for all of your service or repair needs.