The Audi is a luxury vehicle representative of high-class stature and exceptional automotive innovation. Even though it's one of the most well-made automobiles in the industry, this vehicle is not immune to standard wear and tear. Some of the most common ailments to befall Audis are suspension issues, so as an Audi driver, the likelihood of you encountering a suspension issue in your vehicle is quite high. You need to be prepared for such an instance as early as possible, and, considering your investment in your Audi, you need to be sure that the technician you entrust your vehicle to can handle the necessary repairs accurately and swiftly.
The suspension of your vehicle is comprised of the tires, the air within the tires, springs, shock absorbers, and the linkages that connect the body of the vehicle to the wheels. The suspension allows for the smooth handling of the vehicle and reduction of potential impacts on the vehicle frame and body. In all, the suspension is responsible for creating a safe driving experience in relation to handling and secure of the vehicle body. Some of the most common suspension issues that arise in Audi models are problems with the control arms, sway bars, shock absorbers, and wheel alignment.
You should also be aware of what you can do as an Audi owner to extend the life of your vehicle's suspension. This includes proper routine maintenance and a general awareness of your driving habits. If you are noticing a difference in the performance of your Audi, begin to hear strange noises, or notice your vehicle sitting lower than usual, it is essential that you contact an experienced automotive professional as soon as possible.
Problems With the Control Arms
The control arms are a part of the lower portion of the suspension system. These function as the connection of the wheel hub to the vehicle's lower frame. With all of its different components (the ball joints, rods, and bushings) it controls different movements and the handling of the vehicle. The control arms can absolutely be affected by wear and tear, however, your driving habits are another factor in the longevity of the control arms. If you are prone to harsh braking and/or abrupt acceleration, your controls arms will wear very quickly.
Problems With the Sway Bars
Sway bars, also known as stabilizer bars and anti-roll bars, are responsible for the stability of the vehicle. The sway bars keep the car from rolling over as it turns, or "sways" (this is primarily for very dramatic turns). This is another part of the vehicle's suspension system that can be damaged from poor driving habits, especially from things like driving over potholes.
Problems With the Shock Absorbers
For drivers of sporty, luxury vehicles, this issue is a very common one to see. This component is very self-explanatory with regard to its function: the shock absorbers are meant to absorb the "shock" of any impact that may occur while driving, such as driving over speed bumps. They also function outside of such situations, working to stabilize any major vibrations that occur while driving, especially at high speeds. Driving at high speeds over uneven terrain or failing to be mindful of speed bumps or potholes can cause significant damage to the shock absorbers.
Problems With the Alignment of Your Wheels
This is a factor to pay very close attention to, as this will directly affect not only the quality of your driving experience, but the safety as well. Proper alignment of your wheels ensures that your Audi will handle well and that all other components of the suspension system can work properly in tandem. On its own, this may not seem like a very big concern, but if ignored, misalignment of your wheels can lead to very serious problems with your vehicle.
Get High Quality Repairs for Your Audi With Bridgewater's Best European Auto Mechanics
When it comes to your Audi, who better to understand the luxury and high-quality standards of care needed than Bridgewater's European automotive specialists?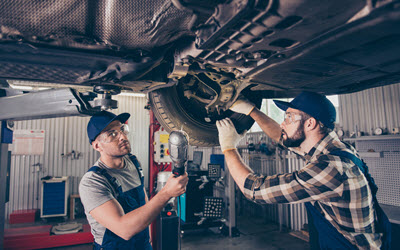 Specializing in vehicles including Land Rover, Audi, Mercedes, and more, our ASE Certified mechanics are more than capable of providing you with the high quality service you need, at a greater speed and only a fraction of the cost when compared to dealerships.
With all of the information available online these days, everything seems like an easy DIY trick. However, when it comes to your Audi, you don't want to risk your luxury investment for a quick fix. Leave your suspension issues to the experts and come give our excellent mechanics a visit.
We are here to take the guesswork out of the service and repair of luxury European vehicles. Our staff care deeply not only about the performance of your vehicle, but your safety while driving it. With Motor Cars International, your worries for your Audi end today. Give us a call to set up your appointment. Our offices are located near Easton, Norton, Raynham, Sharon, and Bridgewater, MA.