Aluminum fuse failure is a common problem in many Mercedes-Benz models. It occurs when the aluminum comes into contact with copper, which generates a reaction that can render the fuse no longer useful. After the aluminum fuse is destroyed, the electrical connection that your Mercedes relies on to run can no longer be formed. Even starting your car or turning on your headlights may be impossible at this point. Let's take a closer look at how aluminum fuse failure in your Mercedes can affect your vehicle and how you can get it fixed.
Preventing Aluminum Fuse Failure In your Mercedes
Before you incur the cost of repairs for fuse failure in your Mercedes, there are a few preventive efforts you can take to avoid this occurrence from happening in the first place. Many Mercedes owners are not aware of the prevalence of aluminum fuse failure, so they aren't able to prevent it. For those who have this knowledge, your Mercedes can continue to be driven without experiencing this commonplace problem. Here's how to do it:
If you notice corrosion or have issues starting your Mercedes that are linked to aluminum fuse failure, get this part fixed or replaced before your vehicle becomes inoperable.
Keep your Mercedes stored in a garage or other dry place away from rain and moisture. Copper metal can be carried to the aluminum by being transferred through the rain, so preventing this altogether is beneficial.
Indications Of Aluminum Fuse Failure In A Mercedes-Benz
Some signs of aluminum fuse failure in your Mercedes are more noticeable than others. An immediate loss in power is a key sign that your aluminum fuse may need attention. This is the most prominent indicator that your Mercedes is experiencing this very issue. However, it is also a sign of many other components malfunctions, so it likely wouldn't be diagnosed until you took it into a professional service shop.
Other signs that your aluminum fuse needs replacing include the malfunction of non-essential electric items and functions. This could consist of radio, navigation, windshield wiper, power door lock, and power windows ceasing to work. These items may also work intermittently or function off and on for a while and then completely stop.
Solutions for Aluminum Fuse Failure in Your Mercedes
It is never recommended for Mercedes owners to try to correct electric problems on their own, but here's a rundown of what you can expect a trained professional to do to fix your aluminum fuse failure problem:
Run a diagnostic report to confirm that aluminum fuse failure is the cause of your problem.
Replace the old fuse with a durable, new one.
Choose a ceramic replacement fuse to ensure the problem does reoccur, as this material isn't prone to corrosion.
Look for any additional issues that may have occurred from aluminum fuse failure.
Overall, the solution to aluminum fuse failure in a Mercedes-Benz is straightforward, if you know what you are looking for, so seek professional help to resolve this quickly and affordably.
Motor Cars International for Mercedes Aluminum Fuse Repair
When you are experiencing an electrical issue with your vehicle, it can be extremely dangerous to try to fix it yourself. We recommend taking your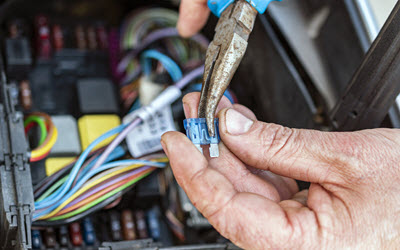 Mercedes-Benz to the professionals at Motor Cars International if you suspect an aluminum fuse failure issue. Of course, this type of issue is hard to self-diagnose, unless you notice undeniable corrosion and electric malfunction. Otherwise, you wouldn't know your fuse is the culprit. However, the technicians at Motor Cars International are trained & experienced in Mercedes models, so we know exactly what to look for and how to fix it.
Serving the Easton, Norton, Raynham, Sharon, and Bridgewater areas of Massachusetts, Motor Cars International specializes in the repair and service of European cars. Mercedes-Benz models are luxury vehicles with an upscale attitude and prestigious reputation to uphold, so we want to make sure your Mercedes gets the care it needs and deserves.
An aluminum fuse failure shouldn't hold you back, so call us at (508) 697-5921 today for a diagnosis and plan of care to get your Mercedes safely back on the road. Call us today and allow us to earn your repeat business!