Audi is one of the most popular automotive brands in the United States because of its high performance and reliability status. However, irrespective of its top-notch quality, Audis are made of multiple systems and thousands of components. Each requires maintenance to perform perfectly as designed. If not, they can become defective and lose their function.
The lights in your Audi can become erratic when not adequately maintained or as a result of other faulty parts. Erratic lights are easily noticeable but usually overlooked as nothing important. However, when your Audi lights (dashboard lights, overhead cabin lights, taillights and headlights, brake lights, and low beam lights) begin to flicker on and off, this erratic behavior has a cause and needs a solution.
You may wonder what causes erratic lights in your Audi, and the reasons are not far-fetched.  Below are the most common causes of erratic lights along with signs to indicate a problem and the best repair solution.
Reasons for Erratic Lights
A faulty electrical system: The electrical system of your Audi is one of the most vital parts of your automobile. It uses connecting wires, circuits, relays, and fuses for channeling energy to power windows, lighting systems, power locks, and so on. Hence, if the wire connection between the bulb and the car's battery or alternator is faulty, the lights will be faulty. Also, faulty fuses and circuits can be responsible for erratic lights.
A worn-out alternator: The alternator is responsible for powering the car's electrical system when it is in motion. A good alternator ensures that every component of the car runs smoothly. If the alternator is faulty, it can result in the light being erratic. Given this, the alternator will need replacement or repair. Your car will not function without the alternator, so if this is the culprit, seek help from a professional Audi service center as soon as you suspect something is wrong.
Faulty bulbs: In our homes, when light bulbs become faulty or worn out, they start to flicker. This also applies to the lights in your Audi. Headlights, taillights, and dashboard lights are lit by bulbs. Hence, when they become faulty, your Audi might experience erratic lights.
Different Types of Lights in Your Audi and What They Indicate When Erratic
To detect erratic lights in Audi vehicles is very easy. Most times, we choose to ignore the warning signs, but if you notice periodic flashing for your interior lights, it is usually a strong indication of an electrical problem.
Dashboard lights can also flash on and off when faulty. This is also an indication of a faulty electrical system. However, if the lights wouldn't come on at all, the dashboard may need complete replacement. Audi's virtual cockpit is a technological marvel, but it comes at a steep replacement cost. Ensure your mechanic performs routine maintenance and updates so this doesn't become a problem.
Flickering headlights may not mean the bulb itself is faulty. If replacing the bulb does not solve the problem, it can be the battery and the bulbs are not well connected. Having the connection between these checked and replaced, along with any faulty wires and sensors, will resolve the flickering in your Audi.
Blinking tail lights often indicates that the brake switch is faulty and needs to be replaced or fixed.
Faulty low beam lights usually require more diagnosis to detect the root problem. This is because many things can cause it, but the most common root problem is faulty bulbs, bad or melted wiring, or a faulty fuse.
Motor Cars International is the Ultimate Solution
If your Audi is experiencing erratic lights, you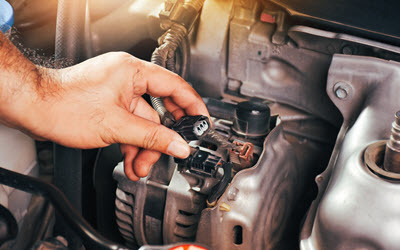 need a reliable repair shop to get it fixed. Motor Cars International is the best in the business of repairing erratic lights. We are located in Bridgewater, MA. Motor Cars International has been in the business of providing professional automotive repairs and maintenance for years.
At Motor Cars International, all our technicians are ASE certified. Hence, your Audi is in safe hands when you choose to trust us with all your repair needs. If you need your Audi inspected, diagnosed, and repaired quickly and affordably, call us or kindly visit our website to set up an appointment.