As an Audi gets older, parts may begin to break down and need repair. Some of these issues could affect the vehicle's performance. In contrast, other parts breaking could be a detriment to having a safe driving experience. After natural wear and tear due to use, your digital dashboard could also start to have issues.
The digital dashboard found in most Audi's is a really innovative feature. The digital dashboard replaces the traditional analog dashboard found in most vehicles. It still will have standard gauges and warnings, such as the amount of fuel in your gas tank, the speedometer, and an engine temperature gauge. It can also be customized to add other functions as well. Some additional functions could include taking a phone call from the dashboard, mapping out destinations with GPS, and choosing music selections such as bluetooth reception from your phone or tablet.
If your digital dashboard begins to have issues, you could run into severe problems, such as not knowing how fast you are traveling, not knowing how much gas you have in your fuel tank, or not knowing when you need to change your oil.
Digital Dashboard Failure Warning Signs
You can be on the lookout for several signs to make sure you catch any warning issue of dashboard failure to have it repaired before this becomes a dangerous situation.
Blown bulbs: One of the first things you might notice is a blown bulb. Before the bulb completely burns out, it may start to flicker or be dimmer than before. If the breaking bulb is responsible for important information you need, this could become problematic. It is likely if one bulb is going, the others are not far behind. We recommend that you take your car in for service as soon as this issue starts occurring.
Blown fuses: Another common mechanical issue is when your fuses begin to blow. You will know when this is happening because you will see some other problems with the dashboard. These issues could include failure to light up (completely or partially), flashing or glitching displays, and dim or dull screens. If the only problem is your fuses, your vehicle technician should be able to quickly fix this.
Pixelation issues: This is an uncommon issue in an Audi, but it is still possible. If your car has pixelation issues, it will look very similar to pixelation issues on a computer screen or television. If a pixel dies, you will know this by seeing missing pixels with no picture. You might also see vertical or horizontal lines crossing the digital dashboard. If you do run into this issue, the only way to fix it is to bring it into your Audi repair shop. A certified mechanic will need to either reset or replace the entire system.
Instrument cluster failure: The final symptom you might notice is instrument cluster failure. When this happens, specific icons will disappear from your digital dashboard. Regardless of whether you have a partial or complete instrument cluster failure, you will need to bring your Audi in for repair right away. It could be any gauge that disappears, including having no idea how fast you are going.
Digital Dashboard Failure Prevention
There is no way to completely prevent all car issues, including problems with the digital dashboard display. However, there are certainly some things you can do to try to avoid this issue from occurring.
Audi will periodically send out digital dashboard upgrades and patches. Make sure when they do, you take steps to update your dashboard. Another thing you can do is ask your vehicle technician to do a complete system check whenever you bring your Audi in for routine service or repair.
Motor Cars International
Our vehicle technicians at Motor Car International are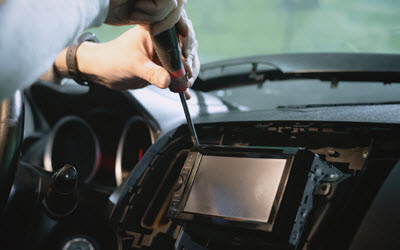 here to help all Audi owners and drivers in Easton, Norton, Raynham, Sharon, and Bridgewater, MA. If you notice any signs that your digital dashboard may be failing, you should call us to make an appointment right away.
We will ensure that your Audi's digital dashboard is working correctly. We look forward to meeting you and helping you maintain your Audi so you can drive it with confidence. Contact us today!