An important part of the Mercedes system is the catalytic converter. You may not have heard a lot about this important component. The catalytic converter is a special device that is made to prevent harmful emissions from the vehicle from leaking out into the atmosphere. It converts harmful substances like carbon monoxide into carbon dioxide to safely release into the atmosphere.
If you're a lover of exotic and luxury cars, then you have your eyes on a Mercedes. However, the Mercedes is a high performance vehicle that requires regular maintenance and tuneups. A damaged Mercedes part could make the driving experience frustrating and it could cost you in the long run.
What does the catalytic converter do?
The catalytic converter in your Mercedes is one of the most crucial parts of your vehicle. It makes it safe for you to drive your luxury car without causing harm to you, those around you, and the environment. Its integral purpose is to reduce the emission of pollutants from your car.
In a vehicle such as Mercedes, the catalytic converter is installed in the exhaust system and it functions to reduce the toxicity of exhaust fumes. This device is quite costly because it is produced from very rare metals; platinum, palladium, and rhodium. It requires occasional maintenance and repair. However, its importance to a car cannot be over-emphasized.
In a Mercedes, the catalytic converter first converts carbon monoxide into carbon dioxide without endangering the overall system of the vehicle, including its high-performance engine.
How can a catalytic converter wear out?
Failure of the catalytic converter to function properly can be damaging, not just to the part but to the entire car engine. This is why it is very important that you regularly check and repair your catalytic converter, in a case where it develops a fault.
Usually, converters do not malfunction or degrade for a very long time. A faulty converter is often telling of a much bigger root cause in the car's system. This is why it is advisable that you undergo a repair before the installation of a new one. We wouldn't recommend DIY for this process. Instead, visit our repair shop and allow our experts to perform these repairs. For drivers around Bridgewater, Motor Cars International is the best choice.
Often a faulty catalytic converter can be caused by:
Structural Damage: Damage to the converter can have devastating effects on its structure and function. Structural damage, such as debris hitting the converter as you drive over road rubble, could cause it to malfunction.
Exhaust Leaks: Exhaust leaks can lead to the converter overheating. This can cause the sheeting to erode and eventually the melting of the ceramic substrate.
Fuel Mixtures: Low-quality fuel is a common cause for the deterioration of the catalytic converter. Contamination of the mixture from oil and sealants are a common cause of blockage and contamination. Substances that permeate the chamber for combustion and extend into the surface of the converter can reduce its efficiency.
Symptoms of a Worn-out Catalytic Converter
Engine Misfiring: This occurs when your Mercedes engine cylinders quit providing energy to your vehicle. In this case, raw fuel goes directly into the catalytic converter. This could cause overheating and melting of the converter itself. In the worst case, it can result in an engine fire.
Rattling Engine Noise: It is quite important that you don't ignore the rattling noise in your car. For people who use richer fuel mixtures, the probability of damaging and wearing out your converter is higher.
More Fuel Usage: If your converter is already clogged, you could find yourself worsening the situation and even unknowingly spending much more money on fuel. A bad converter means poor fuel economy.
Motor Cars International Will Replace Your Catalytic Converter
Repairing a bad catalytic converter is one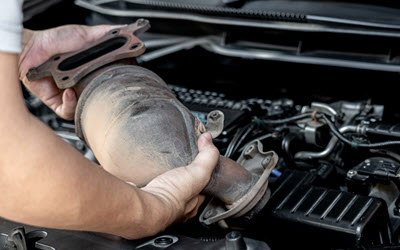 of the most common repairs today. For car owners in and around Bridgewater, Motor Cars International is your trusted service choice, with a team of specialists to serve you. We also provide expert services to our neighbors in Easton, Norton, Raynham, Sharon, Bridgewater MA. Our goal is to ensure that your car gets the quality service it requires every time you bring it in for maintenance or repairs. Simply visit us in person or call us to schedule an appointment with our team.