There are a number of excellent usability features available in the award-winning Land Rover. It provides outstanding off-roading capabilities combined with advanced technological features to give its drivers maximum comfort. With a Land Rover, you're guaranteed reliability, durability, and incredible luxury.
With an innovative multimedia system providing a unique driving experience, the Land Rover in-dash infotainment system is designed for comfort and driver convenience. Land Rover's infotainment system provides easy access to entertainment media, alerts, navigation maps, and other connectivity features through intelligent voice recognition and responsive touchscreen technology.
The ease of access to all these features makes it easy for Land Rover owners to become accustomed to them. Like every other system in your Land Rover, the infotainment system is also susceptible to failure, which can be very frustrating and even dangerous to the driver. Therefore, it is imperative that problems be addressed as soon as possible.
Features of The Infotainment System in Your Land Rover
There is a wide range of entertainment and usability options available for your Land Rover, which will make your trip both comfortable and safe. Infotainment systems in Land Rovers typically include the following features:
Touch Screen Display: This is the main interface of your Land Rover's infotainment system; LCDs (Liquid Crystal Displays) and TFTs (Thin Film Transistors) are commonly used for touch screens. It provides access to connections to other devices and displays graphics.
Backup Camera: As an added feature, you can also see what's behind you on the monitor when it's difficult to see in the dark. The backup camera in your Land Rover usually displays a trajectory line and red markings when you're close to hitting something.
Voice Command: In the newer models of Land Rover, you will find voice command features available. As a result, you will be able to make and receive calls without touching your phone or looking at it at all.
Phone Integration: You should not worry about using your phone while driving. Depending on the Land Rover's model, the infotainment system can integrate your phone into its automated system so that you can freely use your phone while keeping both hands on the steering wheel.
Bluetooth Connectivity: With this connection, you can effortlessly use your favorite navigation or music apps on your Android or Apple
Satellite Navigation: The infotainment system in Land Rovers comes with an integrated visual navigation system that will guide you to your destination easily.
Warning Signs Of Infotainment System Failure in Your Land Rover
It is important that you take your Land Rover in for maintenance if you see any of these warning signs of infotainment system failure:
Out-of-Date Software: To keep your vehicle's infotainment system working properly, you should keep the software up-to-date. For the infotainment system to function properly, it must stay updated with the latest updates, just like a smartphone or smart device. The infotainment systems on Land Rovers are regularly updated, which means yours will need to be updated as well. The infotainment system in your vehicle may run more slowly if you do not update it regularly.
Glitches: Glitches are a common occurrence in infotainment systems. Generally, manufacturing companies overlook minor problems that cause system glitches. If your infotainment system malfunctions or ceases to function entirely due to system glitches, you will experience problems with your car.
Electrical Failure: Your vehicle's cable and electrical systems can cause problems that affect all aspects of the vehicle, including the infotainment system, causing malfunctions.
Let Motor Cars International Deal With It
When performing maintenance and repairs on popular European brands, our mechanics understand the importance of accuracy. Each make and model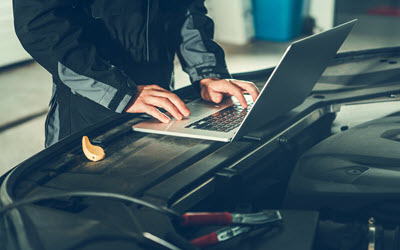 has its own maintenance requirements and service program. Our tools and equipment are factory-grade to ensure your car's maintenance is performed correctly the first time.
As a car maintenance company, Motor Cars International strives to make your experience as convenient and easy as possible. No hassles or long waits are ever an issue when you choose our team to service your car.
Motor Cars International serves drivers in Bridgewater and surrounding areas such as: West Bridgewater, Sharon, Raynham, Norton, Nantucket, Martha's Vineyard, Easton, East Bridgewater, Cape Cod, and Brockton. For more information about our maintenance programs or to schedule your next service appointment, please give us a call or stop by our shop today.