MINI models are prone to the reaction of "mushrooming" that occurs when the strut and shock towers hit each other over and over again. Typically, the strut will smash into the shock towers, creating a bend in the sheet metal on the tower structures. This creates a shape that resembles a mushroom, which is where this phenomenon gets its name.
As you can imagine, this is something that can be difficult to detect until your MINI starts making weird noises or a technician at a dealership suspects it. There are a few instances where you may be able to identify this issue as a problem in your MINI.
Signs of a Mushrooming Shock Tower in MINI Models
In the cases where a MINI driver may be able to detect the creation of a mushrooming shock tower, here are a few things you should look for:
Pulling to one side during your drive: Depending on what side is being hit and bent, your MINI may begin to pull to one side as you drive. This pull will be significantly noticeable but can also be confused with other issues, including misaligned wheels.
Shock towers that develop a convex shape: Generally speaking, your shock towers should be flat in shape. So, when you notice they are caved in or appear warped, it can be due to the beginning stages of mushrooming.
Reduced fuel efficiency: The compromised frame of your MINI will leave it struggling to keep up on the road ahead. This constant pressure will reduce the fuel efficiency of your MINI.
Reasons for Mushrooming Shock Towers in a MINI
While we know that MINI models are prone to mushrooming shock tower development, you may wonder why it is specific to this certain vehicle. Part of it is due to the configuration and layout of MINI models, and other contributing factors are specific to maintenance and driving habits.
Regular wear and tear: As you drive, you will hit bumps along the road and may run over potholes. After a while, this begins to take a toll on your MINI and its reaction between the strut and shock towers.
Aggressive driving: The harder you hit potholes and bumps in the road, the more vibration will be sent through your MINI. This can cause the struts to hit the shock towers harder, leaving more of an opportunity for denting and bending.
Thin sheet metal: Although this isn't related to your driving habits, it is a perplexity worth noting. MINI models are notorious for their thin sheet metal in the use of their shock tower structure. If the metal were thicker, it could probably resist the denting better.
Help from MINI Professionals at Motor Cars International
Oftentimes, it takes a professional to detect mushrooming shock tower problems in your MINI.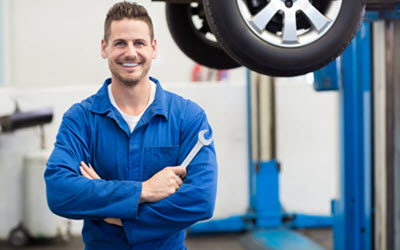 You can count on the experienced and trained technicians at Motor Cars International to complete a thorough examination to determine if this is an issue with your MINI. With friendly care, our expert technicians who specialize in European auto repair will evaluate whether mushrooming has occurred in your shock towers and to what extent.
Our facility has been serving the areas of Easton, Norton, Raynham, Sharon, and Bridgewater in Massachusetts for years. Knowledgeable ASE-Certified mechanics are present at every location to provide the best care possible for your MINI. All of our locations are equipped with state-of-the-art diagnostic tools and tech implementations, too.
European cars need to be treated with the utmost care, as they are a step above what traditional vehicles have to offer. At Motor Cars International, our ASE-Certified technicians know the level of care our customers expect from European vehicle mechanics, and we always strive to exceed that standard.
All of the services that go along with your MINI's repair at Motor Cars International are attributed to the kind of care we give all of our customers. Same-day service is always the goal, and pick-up and drop-off services are complimentary. We also offer towing services if your MINI has completely broken down and loaner vehicles you can drive while your MINI is getting repaired. Call (508) 697-5921 to schedule an appointment today. We look forward to earning your business!
* Mini Cooper Car image credit goes to: bruev.